contributed by Katherine Jones

If you've ever picked up a

World Vision

magazine and been drawn in by an in-depth story from the field, it's likely you already have an introduction to today's special guest, reporter Kari Constanza. Kari travels the globe as one of World Vision's most prolific storytellers. She was also on the docket as a keynote speaker at this year's

CA Conference in Seattle, November 4-5, 2016

, where she be spoke on

"The Art of Storytelling" and "Leaving a Matthew 25 Legacy."


Before working for World Vision, Kari was a television news producer at a station in Seattle. She's now been with World Vision 21 years. She first worked in video and when she switched to the magazine department, her husband, a news photographer, got her video job! (She insists he's better at it. J) Tom, now a 15-year World Vision veteran, is from New Jersey and she says he makes her laugh. They live near World Vision headquarters in Federal Way and have two children—Nick, 23, and Claire, 18. They also sponsor three children through World Vision: Immanuel in Zambia, Thulisani in Zimbabwe (whom Kari's met), and now Luisa Emilia in Nicaragua, whom they picked up after another child's project in Costa Rica closed. She looks forward to meeting Immanuel and Luisa someday.

---

Kari, welcome!

As we venture into the margins, we find a fine line between compelling storytelling to move people toward a heartfelt response, and exploiting poverty to manipulate a desired outcome. How do we keep from crossing that line?

As a storyteller, you must speak the truth about this broken world in love—Ephesians 4:15. I'm fortunate to get to meet the people I tell stories about. I report stories on people with whom I share a bond. I know their names. They've shared their hearts with me. That enables me to share their hearts with others—in love.

As a sharer of stories, you know when you've crossed the line. You feel it in your heart. I once worked with a woman (a reporter not with World Vision) on a story in Zambia, during the time when HIV and AIDS ravaged communities. We came upon a story of three orphaned boys who were so hungry that they were eating rats they'd catch in the field. The woman reporter was ecstatic. She'd found the perfect story. I remember standing there in that field, thinking that if I was ever glee-filled at someone else's sorrow because it would make for a good story, that I would leave this job immediately.

As a story gatherer who routinely travels into the margins, you've seen some tough stuff. How do you not bring it home?

I do bring it home. I carry it with me everywhere I go. I have left parts of my heart in every country I've traveled—35 so far. I am fortunate to be married to Tom, who heads our video department at World Vision. Even if I don't tell him the stories immediately after a trip, he knows what I've been doing and how it makes me feel. He understands jet lag and how part of us stays in the place where we were. He feels it too.

Writing is my catharsis. I start writing about my trips as soon as possible. If I didn't have an outlet—a way to share these stories—and had to keep them inside, I would definitely suffer. But my colleagues at World Vision, such as Matthew Brennan, who runs our blog site and the magazine team that runs my stories, give me an outlet to share. And, I'm fortunate to be Facebook friends with many Child Ambassadors. When I post on my Facebook from the field, I know I am talking directly to people who care. They respond and I feel their compassion. I know I'm part of a big family that is reaching out together to love the poor.

What process goes into your partnership with photographer Jon Warren so that the stories we read in World Vision magazine appear seamless?

Jon Warren is amazing. I think he is a genius, actually. He would never say that because he is so humble. He grew up in India as the son of missionaries. When he came to the United States at 18, he discovered the misconceptions that people have about the poor. He found that some people see the poor as unworthy or hopeless. Jon sees the poor as beautiful children created by God. Many pictures you see in our magazine of smiling children are children who are smiling back at Jon and our other wonderful photographers, such as Laura Reinhardt and Eugene Lee.

That said, Jon and I sometimes tussle over finding the perfect story. The person has to touch my heart. They have to tell a story that will resonate with our donors. But those same attributes need to be in place for Jon as well. We always seem to come to consensus on what stories we choose to tell because we pray that God will lead us to the story He wants us to tell.

When we come back, I begin the writing process, keeping Jon's images in mind. Before I wrote for a magazine, I was a video producer and had to match the story and images perfectly. The magazine is a little different. Jon is telling the same story I am, but using images and captions to take a reader from the beginning to the end. My stories are then shaped by editors like Jane Sutton-Redner and Elizabeth Hendley who are wonderful at their craft. Good editors make for good writing. It truly is a team effort to take a story from the field and turn it into a piece for a magazine.

Please share one of your favorite stories from the last year, as well as a story you chose not to tell.

My favorite story was the story of Father Daniel in Iraq. I'll speak about him at the conference in November. Father Daniel takes care of Christian refugees in Kurdistan. When I was with Father Daniel, I felt like I was in the presence of one of Jesus' apostles. He's an ordinary man who loves McDonald's cheeseburgers and Lady Gaga's music, but he's living out his faith in an extraordinary way.
There was a story in Iraq that I chose not to tell. I chose not to even do the interview. One of the people in the camp had her 3-year-old daughter taken away as they fled from Mosul. Our organizational policy demands that I not share who took the little girl for security reasons, but you know what group I am speaking of. I thought about interviewing the woman, but then I discovered that The New York Times had interviewed her already. I did not want to give this woman hope that her daughter might be found if she talked to another organization. Instead, I pray for the little girl, named Christine, and for her parents, who are living a nightmare.

Storytelling is one of the most useful tools in an effective CA's toolbox. Please share some tips to help us sharpen that tool.

Know your Audience: You can tell immediately how receptive your audience will be to what you have to say. There are people who don't want to know, people who want to know a little, and people who want to know a lot. Let them help you know how much to share. For the people who want to know a little—have one point to share. For the people who want to know a lot—let them ask questions. When people ask questions, it takes engagement to a different level. They "own" the information.

Know your Subject: What is the name and age of the person you're sharing about? What is it about this person that touches you? What touches you will touch others. Share why you care about this person. Make him or her real.

Through stories, show the bigger picture of World Vision's programs: Does a borehole in their community mean that the children can now attend school because they no longer have to walk long distances to get water for the family? Or maybe the new hygiene practices mean they no longer get sick so often and so are doing better in school?

Take your audience there: Use your storytelling talents to provide the details that place a reader in the situation. Describe how things look, how things feel, the weather, the house, the land, and the context of a place. Has it been a place of drought or war? Paint a picture with your words.

Let quotes drive your stories: A person speaking about their life or their feelings in their own words is much more powerful than a summary. People remember what other people say. Try to include one quote that will stay with the audience forever.

Good stories include the facts: Stories must include the 5Ws—Who?, What?, Where?, When?, Why?, and if possible, How?. Don't let the facts bog the story down, but make sure your audience understands that the thing you are talking about and the people you are describing are real.
​
Thank you, Kari! Such a pleasure having you here today.
Powered by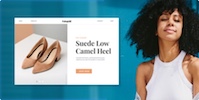 Create your own unique website with customizable templates.