---

As Child Ambassadors, we want to seek out every opportunity to encourage, teach, team-build, and increase our networks of compassionate souls. One very practical way we can accomplish all of these things is by a hosting a party for writing letters to our sponsored children. The benefits are multiple. For the kids, it means blessing them with a tangible expression of their sponsor's love and care. For sponsors, it means allowing them a guided opportunity to connect with their kids, which in turn expands their sense of purpose. There's a communal benefit as well as sponsors share their stories, bringing them into the bigger picture of child sponsorship, while also offering them a time of genuine fellowship.

Interested in hosting a letter-writing party of your own? Here's how:

First, determine the date, time, and place. Most CAs invite sponsors to their home, but you can do it anywhere that works for you: at your church, community center, or local library—wherever suits your purposes best.

Next, send your invitations. Be sure to include the 5Ws: Who, What, Where, Why, & When. Facebook or group-email invitations are fine, but personal invitations go a long way, whether they're by individual email, phone call, or handwritten note. Request RSVPs so that you may better prepare for the event.

For the party itself, experienced CAs suggest that you keep it casual, and always offer some light refreshment—snacks, coffee, tea. Ahead of time, you may want to ask a few sponsors to be prepared to tell their sponsorship story, which helps to build a true fellowship among sponsors.

After you've hosted your first party, start planning the next one! Every-other month works for many CAs and their sponsors. Try not to be discouraged if attendance is low, or nil. It happens, but you can still benefit yourself by using the time set aside to correspond with your own sponsored kids.
But what to put in those letters? This is a question that stumps even seasoned CAs and sponsors. Here are some ideas you can share with sponsors to make letter writing easier and more enjoyable for both writer and recipient.

First, always keep your sponsored kids in your thoughts. This means getting into the habit of not only keeping them in your prayers, but looking at the world through a filter of what you can share with your kids. Turn a watchful eye on life and surroundings to find creative things to write about: the bird nesting above your door, a family get-together, your walk to work, or hanging out with your friends' pets—all of these can turn into treasure-troves of topics to write about.

Pictures, pictures, pictures! Nothing connects kids to experiences like photos. Try snapping photos on your phone whenever anything catches your eye, so that you'll have a nice stockpile to pick through when you write. If you dislike having your own picture taken, this may be just the thing to get you to come out of your shell a bit, because you know that kids love to receive pictures of their sponsors. Take a few selfies for a good cause—especially while holding pictures or letters they've sent to you!

Think like a penpal. If you ever longed for a penpal as a child, think back and harness that feeling. Consider what you would have wanted to hear from your new friend in another part of the world and the sorts of things you would have wanted to see. And be reassured by how thrilling it is for a child to receive a letter from someone far away. Don't be shy or fret too much—hearing from you is exciting in itself!

Keep it simple. There are a lot of big subjects or depthy thoughts that you might love to hear from your sponsored kids, but more often than not, anything that isn't phrased simply and clearly gets missed in translation. Keep phrases very simple and follow an easy line of thought, which in turn helps facilitate a more personal response.

Be thoughtful with your questions. Asking questions is great! But tying them to other relevant topics is even better. Do more than just ask for random facts. Instead, try linking questions to facts you've shared about yourself, or about something else mentioned in your letter. For instance, when explaining that autumn here is a time for sharing stories and songs, you might ask if they have any favorite songs or stories of their own.

"Time" is a good topic. This might be a little specific, but successful letter-writers have found it surprisingly effective. Talk about things that naturally show a progression of time. Not only does that help the kids link one letter to the next, but it helps the sponsor as well. Mention the changing weather, for instance, or update them on how those nesting birds above your door are doing, or take pictures of how the trees look at different times of the year, etc. This also helps to build upon the letters that came before, instead of each point of contact being its own isolated island.

Differences are fascinating, but commonalities are meaningful. When coming up with things to write to about, try to search for ways in which your lives are similar and spin concepts in a way that kids might most identify with. Instead of talking about your vacation to Chicago for your sister's birthday, for instance, talk about traveling very far to visit family you haven't seen in a long time. Dig into the pictures, video, and information about your sponsored child's community for inspiration, and pay attention to their likes and hobbies. There are so many things our lives have in common—family, travel, celebrations, art, nature, music, dancing. And you'll always find more when you think to look.

Most importantly, relax and put your heart into it. Hearing from you at all, especially with regularity, will be enough to show your sponsored children that you care. As long as you keep your them in your thoughts and reach out to them in any way (even a postcard whenever you think about it), they will get the message. And the more you reach out to them, the more they'll come to know that they are truly a part of your life.




Powered by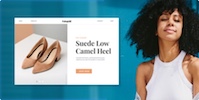 Create your own unique website with customizable templates.